iPhone docks are the greatest invention since sliced bread. Why? No more cables. No more untangling cables. No more cancelling sync in a hurry. Faster charge. Some even play music. Your phone stands upright at perfect viewing position during charge.
Some companies go above and beyond with docks that complement Apple's sleek, streamlined design. We've put together a list of iPhone docks that will look great in your home or office.
10. Grovemade Walnut iPhone Dock
Add a touch of elegance to your office or bedroom. Grovemade offers dock choices of walnut or maple layered on top of a steel base.
Priced at $99 USD.
9. Ventev Chargedock 2000 Portable Battery Pack and Dock Charger
A portable charging dock. The internal battery holds an impressive 2000 MAh. Rubber tabs on the case lid keep your phone steady while you text or play Temple Run.
Priced at $27.88 USD.
8. ElevationDock 3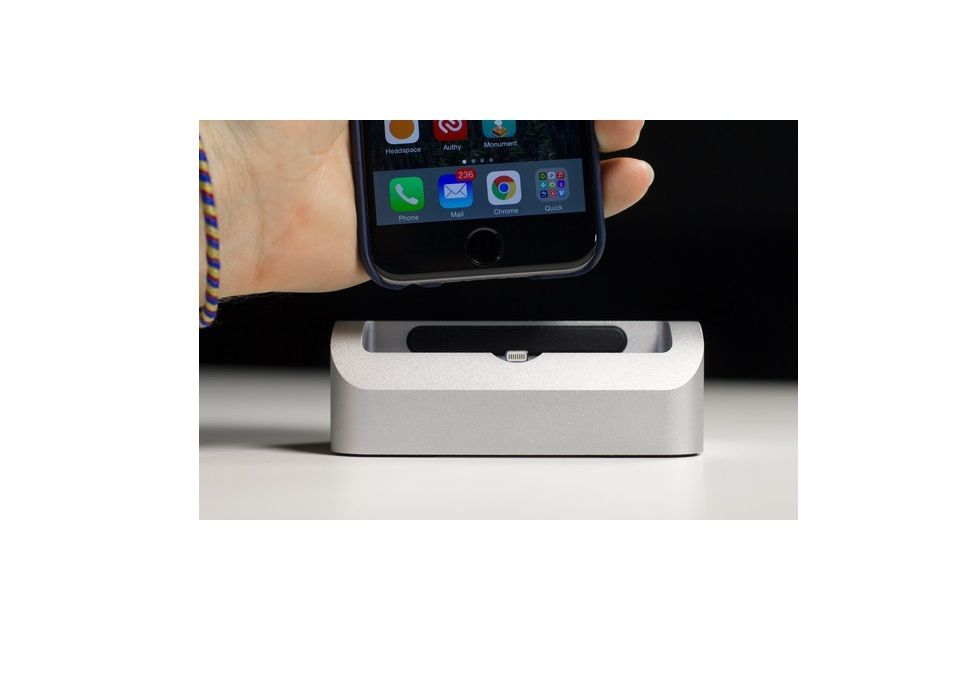 Thick cases will feel right at home in the Elevation dock. It features a removable backdrop precisely for that purpose. Securing bumpers under and in the docking area stops your charging phone from wobbling during use and provides easy removal.
Priced at $89 USD.
7. Elago M2 Stand
The perfect angle. Most stands hold your phone perfectly straight, which isn't as useful. A cord-shaped gap at the bottom facilitates effective charging and another at its spine helps with decluttering.
Priced at $24.99 USD.
6. Mophie Lightning Desktop Dock
Keep your case on. Mophie's dock detects your phone even with it on. Plug its USB charging cable to your computer or a hub and it's ready for use.
Priced at $56.36 USD.
5. JBL OnBeat Mini iPad & iPhone Dock & High Performance Speaker
Rock out to your favourite tunes while your phone charges. The built-in speakers deliver punchy beats, while remaining compact. Its internal battery has eight hours of playback while unplugged.
Priced at $58.60 USD.
4. FUZ Everdock Duo Docking Station
Double the power. Two micro-USBs jut from back-to-back compartments. Micro-suction technology affixes the dock firmly to the table for one-handed removal of your phone.
Priced at $69.99 USD. 
3. Pad and Quill: The Timber Catchall for Apple Watch
When nature meets technology. Made from a single piece of hardwood (walnut, cherry, etc), it functions as an upright charging stand for your Apple watch.
Two separate sections contain your phone, keys, clips, and other knick-knacks. A small space near the back houses a charging cord neatly. A two-year warranty is included.
Priced at $99 USD.
2. Seenda IPS-Z03 Apple Docking Station Holder
Apple released their watch a couple months ago, but a lot of users still have their old phones. This dock charges both simultaneously. Beautifully crafted from creamy-coloured timber, it has a charging magnet over the pointed hold. A small opening in the phone-specific section allows charging cables to snake out and into an adjacent hub.
Get creative! If you don't own a watch, loop your bracelet around it. Android cables fit just as well.
Priced at $24 USD.
1. Seenda ICH-S04 4 Ports USB Desktop Charger
Charge all your electronics at once. Four USB ports surround a stand that lets you view your phone horizontally or vertically. The solid base behind it prevents shakiness while use.
Energy replenishment only takes 2 hours. The dark, circular dock doesn't take up a lot of space and looks great on your desktop. An interior thermostat prevents overheating.
Priced at $15.06 USD.
如果您对这款产品感兴趣,请按自订心水价格按钮