If you're fond of cooking, chances are you've once taken a look at your power bill and gone, "How can one measly smoothie add up to 400 dollars?"
Well, we're here to help. To save money, not make smoothies, but close. There are lots of great appliances out there that don't need electricity to run, but still make quality, mouth-watering dishes. Here are ten of our top picks.
10. iSpoon Kitchen Stylus
In this digital age, people often look up recipes online rather than buy a cookbook. A stylus on the end of a mixing spoon means you don't have to keep swapping between the two.
Priced at $4 USD.
9. Maple Knife Set
Lighter than your common blade, the Maple Knife Set is hand-crafted from Canadian Maple and uses German steel. The wood gives it an aesthetic appearance as berefts the food you're preparing. The set contains two knives: a chef's knife and a butcher's knife.
Priced at $100 USD.
8. Kitchen Art Scrap Trap
A scrap trap is one of those things the whole world needs, but no one's thought of it yet. Now they have. Fits over the drawer or under a counter, it keeps your cooking space tidy and prevents messy stains near your trash can. A brush/scraper is provided.
Priced at $12 USD.
7. Chef'n Strawberry Huller
Enjoy strawberries hassle-free. The Chef'n Strawberry Huller removes the leaves and stems from a strawberry while leaving most of the fruit. It works for tomatoes too.
Priced at $9 USD.
6. Garlic Zoom – Wheeled Garlic Chopper by Chef'n
Garlic is a must-have spice, but leaves a horrible smell on your hands after. The Garlic Zoom chops your cloves for you in a cute car-like device. Roll it across any surface to propel the internal blades. The container is transparent, so you can see its process.
Priced at $14 USD.
5. The Hub-less Pizza Cutter
Most pizza cutters tear your toppings and don't even cut the whole way, so you're left holding 1½ slice of pizza. The Hub is specially designed for a deeper, more efficient cut. The hollowed handle provides a better grip and force dispersion.
Retail price to come in mid-2016.
4. Titanium Cheese-Slicer
Indestructible. Made from titanium, this cheese slicer provides consistent, even slices for a lifetime.
The material is 100% food-safe and won't rust with age. It comes in two versions thin-cut (2mm) and thick-cut (3.5mm). One hundred percent dishwasher-safe and there are no hard-to-reach areas food might get stuck in.
Retail price to come in mid-2016.
3. Mesto
Pound away. The Mesto's clear shield prevents spices from flying out of the mortar while grinding. Both bowl and pestle are crafted from natural beech wood, which is durable and slows bacterial growth.
Removable mortar inserts lets you grind three different mixes in one session without any washing between.
Priced at £49.99.
2. Üllo—The Wine Purifier
Whether you're a wine connoisseur or a tired parent looking to kick back during the weekend, the Üllo Wine Purifier is here for you.
Chemical preservatives are often added to wine, which spoil the taste. The solution is simple. Pour your favourite bottle through Üllo. Its filters capture any sediment or chemical residue, then flow out in a delightful helical shape right into your wineglass.
Priced at $240 USD.
1. bolo: The Rolling Knife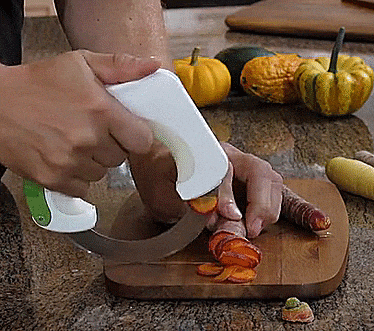 Just roll with it. Bolo's circular design ensures precision cutting with less force. All you have to do is roll the blade back and forth while pushing forward whatever you want chopped and ta-da! A perfectly chopped carrot.
If you press its brake, it turns into a stationary knife great for chopping tops of vegetables. It's dishwasher-safe, too!
Priced at $16 USD.
如果您对这款产品感兴趣,请按自订心水价格按钮