A study conducted in the U.S. showed households waste up to a hundred dollars in idle electronics.
Unplugging them is one solution, but terribly annoying and more often than not, we forget. Most power strips on the market these days cater towards the environment, with manual switches and halting power supply when needed. Some even come with surge protection functions.
Check out our list for quality power-saving electrical outlets and surge protector for a greener—less expensive—tomorrow.
10. Fellowes 8 Outlet Superior Surge Protector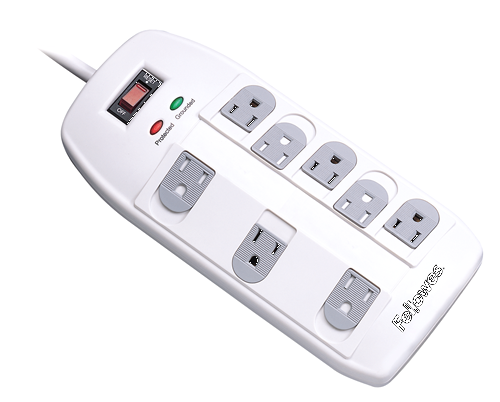 With eight power outlets, this surge protector caters towards computers, printers and fax/modem equipment. Sliding switches on each safeguard against curious little fingers, and a manual switch cuts power off entirely.
Priced at $26.99 USD.
9. APC Professional SurgeArrest, 7 Outlet, Phone Line Protection
The fail safe mode cuts off energy supply if circuits have been damaged, protecting your equipment from future surges. Aside from seven outlets, it includes two phone line splitters for a landline and modem.
Priced at $26 USD.
8. Belkin Conserve Switch
Save energy by shutting off power—including standby—to all plugged components. Out of the eight outlets, two remain permanently on for devices that need constant attention. A wireless remote lets you control electricity flow anywhere in the house.
Priced at $39.99 USD.
7. PST-8 D POWER STATION SERIES
This 8-outlet power grid uses Linear Filtering Technology to reduce AC noise, which may warp signal information and hinder performance. Along with upmost surge protection, it automatically shuts down when fed overly high volts of energy to protect your device.
Priced at $118.03 USD.
6. 8-Outlet EcoFicient Surge Protector
Not only does EcoFicient have eight outlets, one Ethernet in/out, and one landline in/out , it automatically reduces the amount of reserve power for plugged gadgets. One out of the two USB charging hubs is optimized for iPad and other tablets at 2.1 Amps.
Priced at $30.72 USD.
5. APC Home Office SurgeArrest 11 Outlets with 2 USB charging ports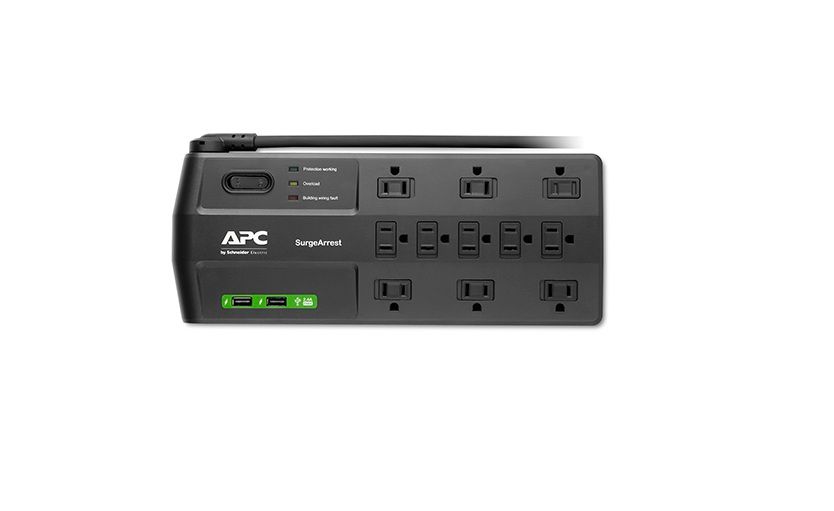 No more awkward angles. The main cord is 180 degree rotatable, providing strain relief and flexibility in positioning.
An LED indicator alerts you of potentially dangerous wiring problems in the wall circuit, and another warns you of power overload. Its 11 outlets and 2 USB ports automatically shut off power if the internal wiring has been damaged.
Priced at $35.58 USD.
4. GreenGenius® 8 Outlet Smart Surge Protector
GreenGenius offers a range of outlets for your power-saving needs. There are eight outlets in total: four energy savers that automatically seal off electricity towards idle devices; three that provide perpetual power and one master outlet that control the energy-saving outlets. All have sliding safety covers.
Other than an internal noise reduction filter, it also features two USB ports and a landline and modem ports.
Priced at $44.99 USD.
3. Satechi Aluminum Power Strip with 4 USB Charging Ports
Reminiscent of Apple's clean-cut design, Satechi Aluminum Power Strip has four outlets and USB ports respectively. It automatically adjusts power flow to match each machine's needs.
Priced at $39.99 USD.
2. Tri Cascade i-BRIGHT7 Smart Surge Protector
Ever want to find out exactly how much energy you're using? i-BRIGHT7 Smart Surge Protector monitors your energy consumption using simple-to-understand graphs, then sends it straight to your phone. This way, you become more aware of your ecological footprint.
The seven-outlet power strip also lets you control and schedule on-and-off periods for your devices, even away from home. Parents will find the Internet usage control especially useful, if you know what I mean.
Retail price to come in mid-2016.
1. Smart Power Strip
Turn your smartphone into a universal remote. Thanks to the Smart Power Strip's Wi-fi connection, you can control your electronics anywhere. On a long holiday? Turn on your lights to deter thieves. Coming home on a hot summer day? Switch on the air-conditioner ten minutes away.
Aside from real time updates on energy use, customizable notifications alert you when a machine is turned on or off. You can set a timer for individual devices, too.
Priced at $199 USD.
如果您对这款产品感兴趣,请按自订心水价格按钮