Whenever I go out, I encounter the same problem: tangled earphones. It's not only time-consuming to detangle that annoying clump of wire; frequent tugging and awkward angles will lead to premature fraying. Those with numerous devices may find the task as daunting as untangling a nest of snakes.
Our list holds the solution to all your wire frustrations. Whether you need a cable management system for your earbuds or laptop, we got you covered.
10. Smartwrap by Sumajin
These brightly coloured earphone managers are the answer to messy wires. They're light and available in ten colours. As simple as snap and wrap.
Priced at $5 USD.
9. Silicone Turtle Phone/ Tablet Holder + Cord Winder by Chekue
This cute little turtle can be used as a phone stand and cord winder. The suction pads on its feet grip your phone, while the inside houses a pole for cables.
Priced at $5.68 USD.
8. NEET Cable Keeper Go – Cable Organizer Sleeve
Zip your earphones into its new coat. The NEET Cable Keeper Go's flared end & zipper ensure easy installation and the freedom to adjust wire length. It comes in 11 different colours.
Priced at $7 USD.
7. Large Clever Zebra Earphone Organizer
Give Zebra his stripes by twining your earphones around him. Light and snazzy, it's a fun way to organize your wires.
Priced at $7.95 USD.
6. Readeel Multi Functional Magnetic Headset Winder
The magnets snap your earphones firmly in place. No matter how your phone gets jostled in your bag, it won't untwine unless you give the word.
Priced at $7.76 USD.
5. Kwmobile Universal Wire Organizer bag
A simple roll shape, the kwmobile Universal Wire Organizer bag conceals five separate cable compartments. Straps hold them safely in position, making this pouch the ideal companion for travellers or those with lots of devices.
Priced at £4.40.
4. BUBM Travel Organizer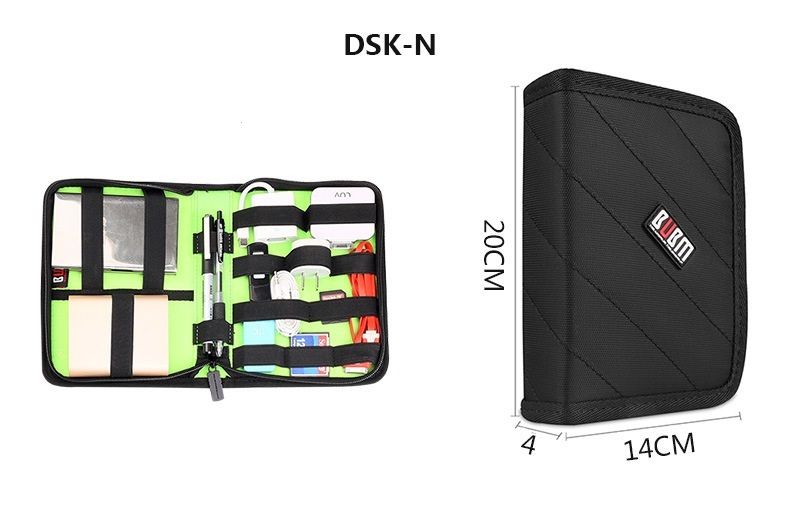 The numerous fastenings house anything from USBs to powder compacts to pens. Even if they slip loose—which they won't—they'll stay safely within the confines of this zippered bag. This brand also features a similar bag with fewer straps and a mesh pocket.
Priced at $17.22 USD.
3. Recoil Combo Pack
Recoil's spring mechanism coils your cords for you. This combo pack includes three different sized winders (small, medium, and large) for all your cable needs. It also comes with a nifty stand for organization purposes.
Priced at $16.80 USD.
2. Geek Sport Poly Laptop Cords Case
Laptop bags usually just have that one compartment, so your cables and accessories get jumbled. Geek Sport Poly Laptop Cords Case has six interior pockets, each with elastic dividers.
The exterior is waterproof, while the inside is lined with soft nylon. You'll find it's surprising slim too, despite its mighty capacity.
Priced at $69.95 USD.
1. DreamWeaver
The traveller's best friend. The inside is a blast of Italian class: genuine creamy brown leather and pockets and straps for accessories. Steel rings down the spine turn it into an all-purpose binder for your around-the-world adventures.
The planner edition throws in a calendar with sections for notes, a goal-tracking system, and weekly inspirational quotes. Seven index tabs help with organization. It comes in different sizes and colour choices of red, black, and brown.
Priced at $58+ USD.
如果您对这款产品感兴趣,请按自订心水价格按钮