Fact: a messy desk increases stress. You can never find anything and meanwhile, your boss is standing there tapping his shoe, while you rummage through clips and sticky notes for that Very Important USB.
De-cluttering your desk may very well be the first step towards that promotion you've been yearning for since you entered. Our list offers an extensive choice of desk organizers, ranging from simple penholders to stylish multiuse stands.
10. Paladone Dead Tidy Desk Organiser
De-stress during the day by stabbing this chalk outline penholder. The soft plastic nubs naturally hold onto your pens and pencils and tidy your desk.
Priced at £6.79.
9. BatelierHandicraft Wooden Cable and Charger Organizer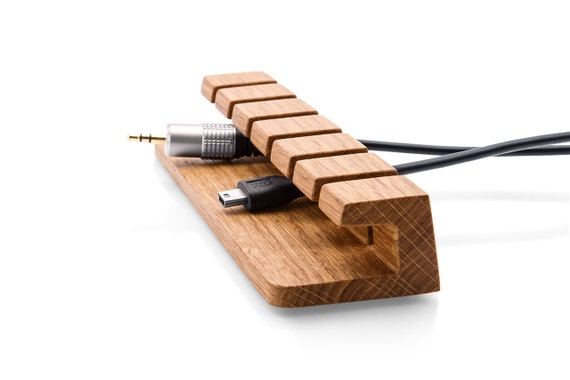 Detangle your cords with this classy cable-holder. Handcrafted from oak, it features six slots, including two thinner ones for phone charging cords.
Priced at $238.85 HKD
8. Loops & Cheese 
Stylish and quirky, the Loops & Cheese is a cable holder you won't be ashamed to display. The holes let you get creative with wire placement and number.
Priced at $15 USD.
7. Poketo Cable Organizer Set of 2
Keep your electrical cords out of sight with Poketo's cable organizer. The square surface holds a wide-range of wires securely, and the adhesive back attaches firmly and easily to flat surfaces.
Priced at $12 USD.
6. Hideaway Cable Organiser
A neat storage place for power banks. Slits on the lid allow cable access, while the box has a classy, Apple-reminiscent design. The bottom has ventilation holes and the material is fireproof. Priced at €31.
5. Cord Cocoon
Cord Cocoon stores cables in a flat disk. Not only is its winding mechanism easy to use, there are a variety of bright colours to choose from. An electric socket space on top organizes your plugs, too.
Priced at $ 4.95 USD.
4. Modo - Modular Desktop Organizer
This rectangular board has infinite possibilities. Move two poles closer to sandwich your phone, or shift them further apart to accommodate books. Shorter pins the size of nubs provide more combinations.
There are four cable grooves in the center and a space at the end for paper clips and knick-knacks. Stick your pins' pointy ends in the cork balls and your USBs in the designated holes.
Priced at $34.99 USD.   
3. Satechi iDesk Multifunction Desktop Organizer
Great with Apple Macs, the sleek, trim surface holds different-sized slots for every utensil possible. There are compartments for pens, business cards, sticky notes, etc. One end features a cup-holder (yes, that happened) and other three USB hubs. A hole in the phone section lets you charge with ease.
Priced at $40 USD.
2. MOS Magnetic Organization System
The magnetic shell holds your electrical cords and earphones in place. At the bottom, suctions hold the MOS firmly in place and adhesive tape is included for those who want something to hang their keys on.
Also included are three magnetic ties for cables that need a little extra stick. This brand also features a smaller version, MOS Menos, for travel. Different colours are available.
Priced at $14.95 USD.
1. Ultra Charging Station & Cord Corral Combo with 6 Outlet A/C Power Strip
If you own numerous devices, this one's for you. The Ultra Charging Station simultaneously organizes and charges your laptop, tablet, and up to three phones.
The set includes the Cord Corral, which holds the provided six-outlet power strip. Internal dividers and wire winders organize them. Usually placed on the floor below the Ultra Charging Station with the lid closed, it radiates refinement and class.
Priced at $114.99 USD.
If you are interested in this product, Please hit the Set Your Price button